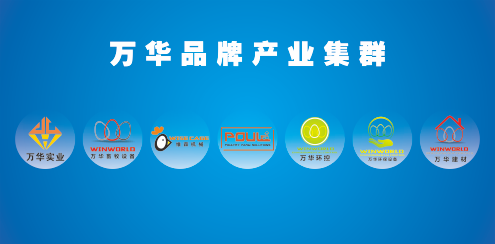 Winworld Brand Industrial Cluster
Winworld brand core:Create a new type of modern livestock farm production method
   Winworld brand connotation and growth direction:Winworld,win the world, aims to provide fully automated equipment and technical services for livestock and poultry farms around the world, innovate farm management methods, improve farm efficiency, relieve and improve the heavy management pressure of farmers and create new Production methods of modern livestock farms.
Winworld brand composition  
The Winworld brand is composed of six companies, namely Winworld Industry, Winworld Livestock Equipment, Winworld Building Materials, Winworld Environmental Control, Weisen Machinery and POUL TECH Machinery.
Brand Composition Company Functions  
Winworld Livestock Equipment is committed to the development, production and sales of fully automated livestock equipment, the main body of the brand and the core of realizing turnkey engineering services. Since its establishment, Henan Winworld Livestock Equipment Co., Ltd. has devoted itself to the research, development, design, production and installation of poultry breeding equipment. has carried out global strategic cooperation with Germany, France, the Netherlands, Italy, South Korea and other internationally renowned companiesIntroduce advanced international intelligent production technology and manufacturing technology, and develop equipment suitable for the Chinese market for layer chicken, broiler chicken, brooder chicken, egg packaging, chicken manure treatment, etc., to provide the most perfect product experience for domestic and foreign poultry breeding customers.
Winworld Building Materials specializes in the research and development and production of new materials for livestock and poultry houses, providing customers with efficient, economical and durable livestock and poultry house construction services. Provide customers with turnkey construction of livestock and poultry houses.

  Weisen Machinery focuses on the research, development, production and sales of semi-automated livestock and poultry equipment, provides economic customers with the most cost-effective livestock and poultry equipment products, and provides the most potential equipment and technical services for small and medium-sized customers that occupy more than half of the national market. Upgrade and growth of customer's automation equipment.
PoulTech Machinery company focuses on the development of the international market, provides automated livestock and poultry equipment services for customers outside China, and provides advanced equipment and technology introduction services from the international market for domestic enterprises, It is the international interface and the window to win in the world of Winworld brand .